Lood is 'n algemene metaal wat wyd gebruik word in verskeie velde, insluitend konstruksie, batteryvervaardiging, stralingsbeskermingsmateriaal, ens. Tydens loodverwerking en hergebruik is loodstawe 'n algemene vorm wat gebruik word vir berging, vervoer en verdere verwerking. Loodstaafvorms (Ingot Moulds) speel 'n belangrike rol in die loodstaafgietproses. Hierdie artikel sal die toepassings en kenmerke van loodstaafgietvorms bekendstel.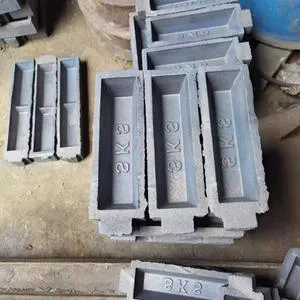 Toepassing: Lood steengietwerk vorms word gewoonlik gemaak van sterk materiale soos gietyster, staal of gietgrafiet. Hulle is bestand teen hoë temperature en korrosie om die hoë temperature en chemiese eienskappe van gesmelte lood tydens giet te akkommodeer. Loodgietvorms kom gewoonlik in vierkantige of silindriese vorm, en hul grootte en gewig kan aangepas word om aan spesifieke behoeftes te voldoen.
Die werkproses van loodstaafgietwerk is relatief eenvoudig. Eerstens word gesmelte lood in die loodstaafvorm gegooi, wat die hele vormholte vul. Die vloeibare lood koel dan af en stol in die vorm, wat geleidelik 'n soliede loodstaaf vorm. Sodra die vloeibare lood heeltemal gestol het, kan die loodstaaf uit die loodstaafvorm verwyder word en voorberei word vir verdere verwerking en gebruik.
Kenmerke: Loodstaafgietvorms het verskeie belangrike kenmerke wat dit een van die ideale keuses maak vir loodstaafgietwerk.
Hoëtemperatuurweerstand: Die loodgietvorm is gemaak van hoëtemperatuurbestande materiale, wat die hoë temperatuur van die gesmelte lood kan weerstaan, wat die langtermyn-duursaamheid van die vorm verseker.
Korrosiebestandheid: Loodstaafgietvorms kan die chemiese korrosie van loodvloeistof weerstaan, wat verseker dat die vorm stabiel en betroubaar bly tydens langtermyngebruik.
Pasgemaakte groottes: Loodgietvorms kan aangepas word om aan spesifieke behoeftes te voldoen. Die grootte en gewig van loodstawe kan aangepas word volgens die vereistes van verskillende toepassings en nywerhede.
Maklik om te gebruik: Die loodgietvorm het 'n eenvoudige struktuur en is maklik om te gebruik. Nadat die loodvloeistof in die vorm gegooi is, na toepaslike afkoeltyd, kan die gestolde loodstaaf maklik uit die vorm verwyder word.
Herbruikbaarheid: Loodstaafgietvorms kan oor en oor gebruik word, wat dit 'n koste-effektiewe opsie maak tydens produksie en hergebruik.
Oor die algemeen speel loodstaafgietwerk 'n belangrike rol in loodverwerking en hergebruik. Sy weerstand teen hoë temperature en korrosie, sowel as sy vermoë om aangepas te word om by jou behoeftes te pas, maak dit ideaal vir die giet van loodstawe. Die gebruiksgemak en herbruikbaarheid van loodstaafvorms verhoog hul bruikbaarheid verder. Of dit nou vir industriële produksie of persoonlike selfdoen-projekte is, loodgietwerk is een van die sleutelhulpmiddels vir doeltreffende berging en gebruik van lood.